The Airport Ninja Bike Travel Case
Price
Regular price
$884.00 AUD
Regular price
$0.00 AUD
Sale price
$884.00 AUD
The original fee-avoiding bike travel case
We developed the Airport Ninja when we realized that bike fees were standing between us and living our dream of traveling and racing. Eleven years and over 100,000 customer flights later, thousands of cyclists worldwide have learned the secret to traveling fee- and hassle-free with their bikes. The world's most compact and discreet bike travel case is stealthy at check-in, while making every aspect of traveling with a bike less costly and more convenient; from finding a suitable rental car or navigating public transit to storing the case away when you're back at home. Say goodbye to bike fees. Become an Airport Ninja.

Pack your bike in as little as 15 minutes 


You don't need to be a mechanic to use the Airport Ninja - packing requires only basic tools, and only one additional step of disassembly as compared to traditional full-size bike cases. Packing takes as little as 15 minutes and can save you up to $250 each way on bike fees.
Available in two sizes to fit almost all road, gravel, and full-suspension 29ers


Two sizes will fit everything from small road bikes to large full-suspension 29er MTBs. At just 10.8 pounds (4.9kg), this means you can pack the case with nearly 40 pounds (18kg) including the bike and extra equipment without exceeding the typical weight limit. It also satisfies all airline requirements regarding the removal of handlebars and pedals.
one-third the size and weight of the competition - and it still has hard plastic sides

The Airport Ninja is by far the easiest bicycle travel case to transport. Its compact size - ⅓ the size and weight of hard cases - make it easy to maneuver around the airport or at your destination, and it fits easily in any size rental car or taxi. The case expands in width so there's plenty of room for extra equipment or souvenirs, and can compress down to 2" for convenient storage when not in use.
As cyclists who traveled every weekend and depended on our bikes for a living, we wanted a travel case that was easy to pack and transport, but did not compromise on protection. That's why the Airport Ninja is the only fabric 'soft' travel case that incorporate hard plastic side panels along with thick energy-absorbing foam padding. The zipper closure system is simple to operate and will allow TSA to close everything properly after manual inspections.
tech specs

Case Design

Optimized shape to allow for greatest packable volume while appearing smaller

Multi-density 2" thick foam insert that wraps 360 degrees around frame

Hard plastic sides keep carbon bikes safe and meet airline bicycle luggage regulations

Padded backpack straps

6 compression straps allowing the case to expand from 2" to 8" deep

Removable padding insert allows case to store flat

12 lbs, allowing 38 pounds of usable packing weight before surpassing airline weight restrictions

Discreet, all black construction with no exterior branding

Available in 2 sizes to fit all road, mountain, gravel, and triathlon/tt bikes

Construction

Abrasion resistant, durable, and weatherproof ballistic Nylon materials

Oversized YKK #10 Zipper

High-density polyethylene plastic panels

Internal Case Storage and Dividers

1 Elastic gear pocket

2 foam dividers to keep frame and wheels separate

Dimensions

Medium: 28x34x5-8"

Large: 30x36.5x5-10"
sizing

Medium

Fits road bikes up to ~56cm. If you're unsure your bike will fit, please email us with the size and model of your bike or bikes for personalized sizing recommendations. 

Large

Fits 60-63cm road and gravel bikes and up to a large 29er mountain bike.

SKIP THE BAGGAGE FEES→
The Airport Ninja bike travel case weighs just 12 pounds - giving you 38 pounds of packable weight. Making it easy to get a road, gravel, or even an enduro bike under the 50 pound weight limit on most airlines.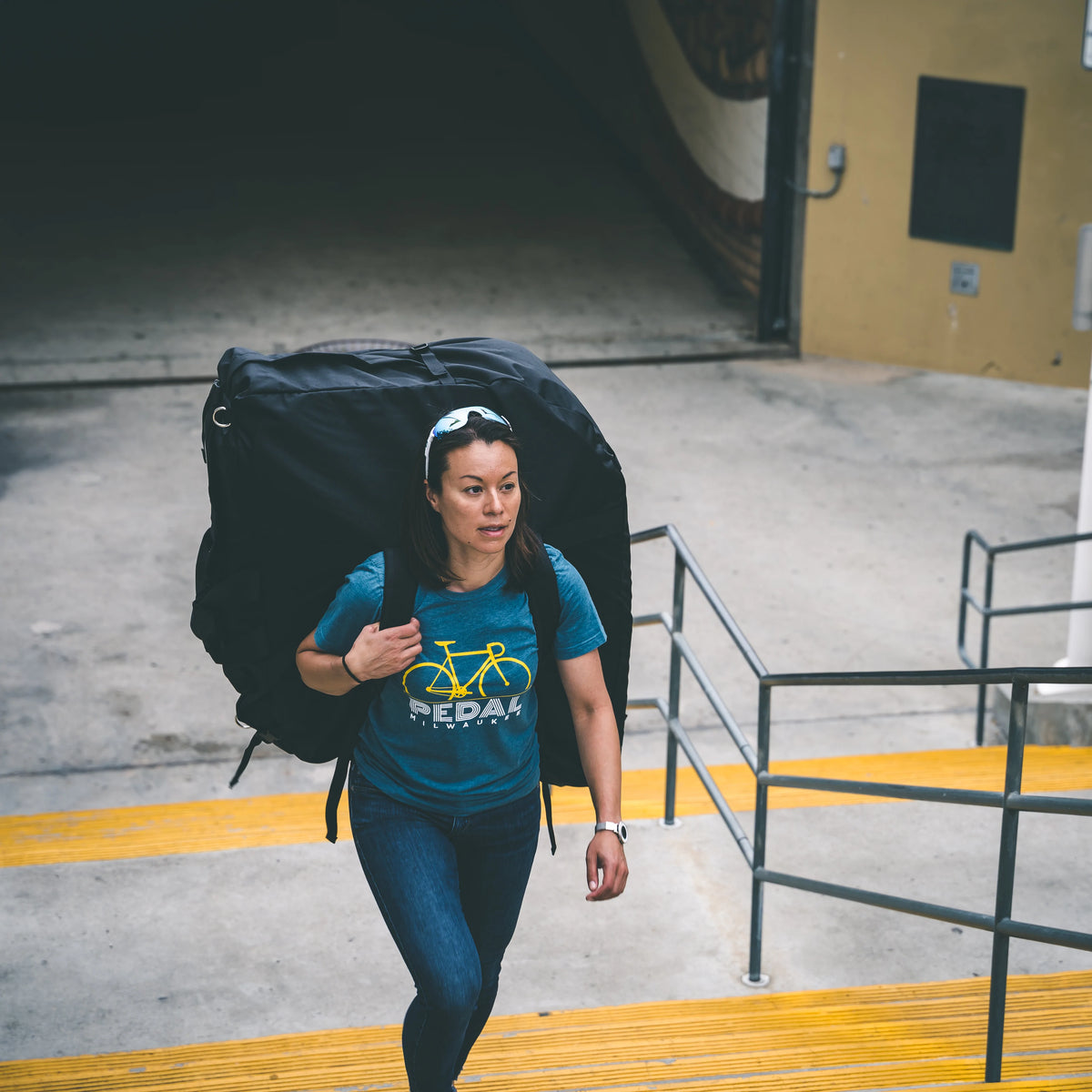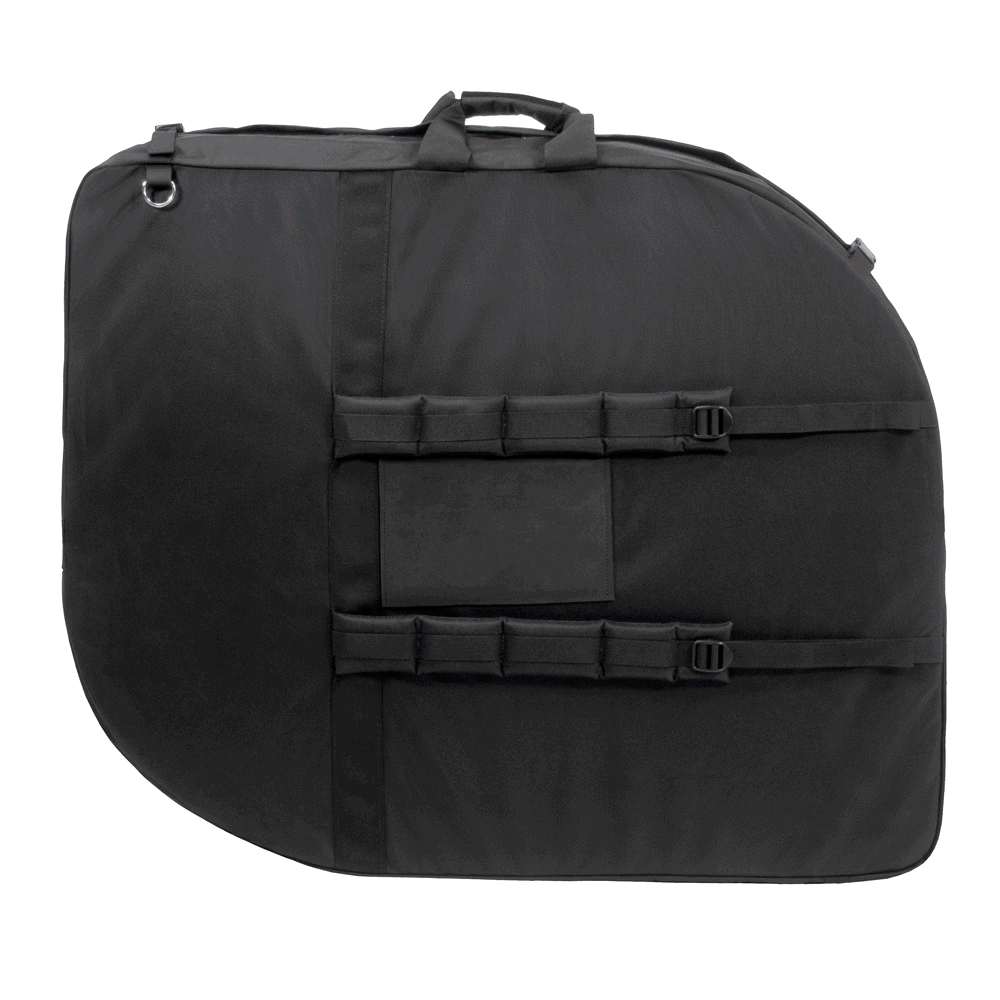 TWO SIZES
The Airport Ninja comes in two sizes. The medium which will fit all road bikes up to a 56cm, and the large which will fit most gravel bikes and large 29ers.
featured in
cyclingtips

Most bike travel cases are large enough and shaped in such a way that they're instantly recognisable as holding a bicycle inside, which often results in a hefty fee for many airlines. Even if there aren't any additional charges, the oversized format relegates you to dedicated queues at the airport, and possibly a maxi-taxi when you land to take you where you need to go. But for those that want cheaper and simpler travel (at the cost of disassembly time), there are solutions.